List of Documents Required for Proprietorship Registration
Proprietorship is one of the easiest form of business to start. It requires lesser time and cost to register compare to Partnership Firm, Private Limited Company, One Person Company. In this article we discuss about the list of documents required for sole proprietorship firm registration in India.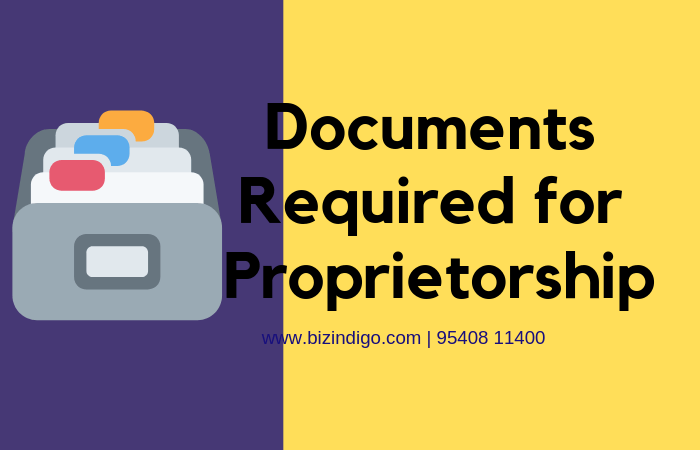 Advantage of Sole Proprietorship Firm Registration
Sole Proprietorship business is very popular and common because of its simplicity. There are many advantages of Sole Proprietorship firm.
Easy to Start
Full Control on Business (as there is only one owner with 100% control on business decisions)
Fast Registration (Can be formed in just 3-5 Days)
Minimum Compliance (lesser compliance compare to company and partnership firm)
Less Cost of Maintenance / Easy to maintain
Documents Needed to Register a Proprietorship Firm
Here's the list of documents required to register a sole proprietorship or proprietorship firm in India:
Permanent Account Number (PAN) of Proprietor
Address Proof of Proprietor (any one of the following)

Copy of Aadhaar or
Passport or
Voter Id, or
Driving License or
Latest utility bill (mobile, telephone, electricity etc)
Bank Account Details of Proprietor (any one of the following)
Latest Bank Statement or
Cancelled Cheque or
Copy of Passbook (first page)
Photo of Proprietor
Latest passport size Color photograph
Address Proof of Principal Place of Business
Latest Electricity Bill (not older than 2 months) and
Rent Agreement (in case of rented premise) or
No Objection letter (NOC) from owner of premise
Unique E-mail Id (OPT needed)
Unique Mobile Number (OTP required)
Get in touch with us for any query regarding Proprietorship firm registration in India. BIZINDIGO Team will help you to register your sole proprietorship legally.
Planning to start your business, we will hep you to register your Proprietorship firm. Get your business ready to launch in just 3 working days.  All business licenses and registration will be taken care by us.
Get your Proprietorship business registered with GST Registration and MSME Registration.  You can go one step ahead with Trademark Registration to protect your business name.
Related Featured Services
TAN Registration