Trademark Class 45 for Legal, Personal & Security Services
A Quick guide on Trademark Class 45. Trademark Class 45 mainly cover legal, security, social or personal services.
This trademark class pertains mainly to the security and intellectual consultancy, safety, legal service for the licensing of intellectual property, copyright management, legal research, etc.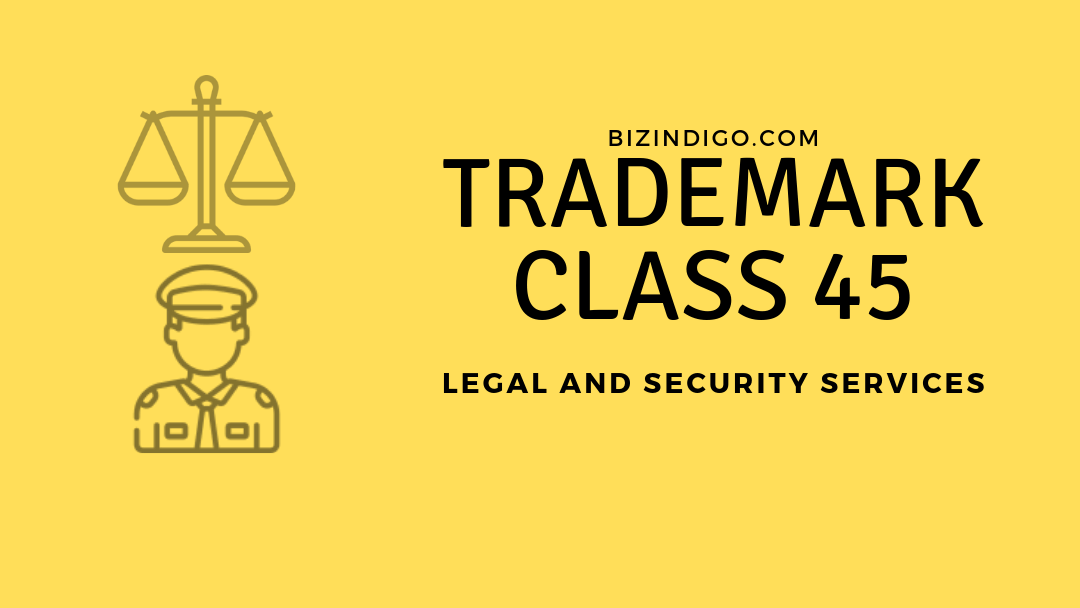 Trademark Class 45
Trademark class 45 deals with legal, personal, social & security services for property and individual, religious and for the spiritual service to the individuals in respect of social events like matrimonial agencies, funeral and social escort services.
Thus, we can list down key services covered under TM Class 45 includes:
Safety, rescue, security and enforcement services, security alarms, night guards, fire-fighting, guards, inspection of factories for safety purposes, monitoring of burglar and opening of security locks, personal background investigations, personal body guarding, rental of safes, rental of fire extinguishers, rental of fire alarms, security consultancy.
Detective services, detective agencies, missing person search
Religious services, organization of religious meetings
Legal services, litigation services, mediation, alternative dispute resolution services, arbitration services, copyright management, intellectual property watching services, intellectual property consultancy, legal research, licensing of computer software (legal services), licensing of intellectual property etc.,
Service of Marriage Agencies,
Funerary services, crematorium services, funerals, undertaking.
Rental Services for Agencies, etc.
Choose trademark class 45 if you are planning to register your trademark for legal, personal, social and security services
Following are the list of services classified under class 45:-
A.
adoption agency services
alternative dispute resolution services
arbitration services
B
baby sitting
baggage inspection for security purposes
C
chaperoning / escorting in society [chaperoning]
clothing rental
copyright management
crematorium services
D
dating services
detective agencies
E
embalming services
evening dress rental
F
fire-fighting
funerals
funerary undertaking
G
genealogical research
guard services
H
horoscope casting
house sitting
I
inspection of factories for safety purposes
intellectual property consultancy
L
legal administration of licences
legal document preparation services
legal research
licensing of computer software [legal services]
licensing of intellectual property
litigation services
lost property return
M
marriage agencies
mediation
missing person investigations
monitoring intellectual property rights for legal advisory purposes
monitoring of burglar and security alarms
N
O
on-line social networking services
opening of security locks
organization of religious meetings
P
personal background investigations
personal body guarding
pet sitting
planning and arranging of wedding ceremonies
R
registration of domain names [legal services]
releasing doves for special occasions
rental of fire alarms
rental of fire extinguishers
rental of safes
S
T
tracking of stolen property
Consult a Trademark Expert
BIZINDIGO provides the expert guidance required to register and maintain your intellectual property assets like brand name, logo, designs etc.
We can help you in filing your trademark registration. We can also help you with trademark renewal, trademark objection or trademark opposition.
Call/WhatsApp: 8851222731